Philosophy
Benvenuti! We are Laura and Roberto, two 100%-authentic Tuscan Italians living in Davis, CA since 2009, but still in love with our BELLISSIMA TOSCANA. Helping you with the "travel of your dreams" in our beautiful Tuscany is a way for us to stay connected with our native place, locations and traditions we experienced and loved for almost 30 years. Our network of professional drivers and private guides can take you to unique locations, restaurants and accommodations you would never experience elsewhere. Our agency located in California, together with the experience and knowledge of our local Tuscan connections, can offer you a unique tour experience. With us, you can experience our real TUSCAN Family STYLE!

Roberto & Laura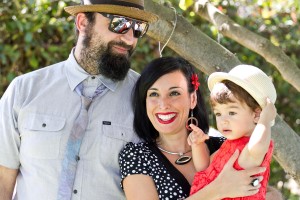 Ciao, I am Roberto and this is my wife Laura. I am from Castiglioncello and my wife is from Cecina, two small towns in the province of Livorno, an important port city in Tuscany. I have a PhD in optical communications and moved to Davis, CA to do research at UC Davis. Laura was a social worker in Italy and now, after moving to Davis, she is a talented full-time mom andcook, and still finds time to work on her poetry books. The idea of MyTuscanStyle started a couple of years ago while my wife and I were having dinner and wine in a small village in the beautiful Tuscan hills with a couple of friends that happened to work as professional drivers for tourists. We said: "wouldn't it be nice if American tourists could get to see unique and hidden places like this in addition to the beautiful and more classic places visited by larger tour groups with a tight schedule and little flexibility?..." We ordered another bottle of wine and kept talking until midnight… and here we are!
There are many similarities between California and Tuscany and when we feel a little homesick, we like to drive to Napa and Sonoma Valley to remind us of home. However, Tuscany is Tuscany, and the food, wine and cultural experience there is UNIQUE. That is why my wife and I (and now our beautiful daughter LINDA) MUST go home twice a year to stay connected with our families, friends, favorite restaurants and wines. Come with US!

FAQ
Q?

What type of services does "My Tuscan Style" offer?

A.

My

Tuscan Style (MTS) is a professional passenger transport LLC located in Davis, CA, USA and Livorno (Tuscany) that provides reliable, safe, convenient and personalized transport services for American tourists that wants to relax and experience a unique journey in Tuscany.

From simple transfers to full-day tours and shore excursions, MTS guarantees a quality service for single travelers, couples and big families.

MTS is not a travel agency and cannot book your airfare tickets, train tickets, etc… BUT we will pick you up and drop you off the airport, train station or hotel of your choice.

Do you want to go to a nice restaurants far from the crowded downtown areas, want to go shopping in downtown Florence and then escape from the crowd to visit and enjoy the unique atmosphere of a small medieval town (Pienza, Montalcino, Sorano, San Gimignano, etc…)… we can take you there

Q?

What professional service can the driver offer?

A.

DRIVERS are professionals who drive cars with a special permit (medallion) that makes it possible to drive in areas restricted to other vehicles, such as Pedestrian streets or Limited Traffic Zones (very common in many historical downtown areas).
DRIVERS speak good English to communicate with the clients, they usually know traditions, typical food and wine of the areas you are visiting, as well as some basic historical information. DRIVERS are NOT tourist guides. So, if you are interested in specific historical details, we can help you to find a professional tourist guide that can walk with you to museums and churches".

Q?

What you should NEVER ask your driver

A.

"DO NOT ASK your driver to show you around because you would ask him to go over his 'duties' and doing something illegal invading the field of operation of city guides.
If you are on a SHORE excursion you are most likely on a tight schedule and you should stick to the plan. DO NOT PUSH your driver to show you more locations than originally planned. This is extremely important for you to get back to your cruise ship on time.

Q?

What is the most convenient port, train station and airport to use?

A.

Florence and Pisa airports are conveniently located close to many wonderful locations on your wishlist. You can easily reach Tuscany from many US airports with a single layover in London, Munich, Frankfurt or Paris.
If your Italian journey starts from Rome or Venice, you can reach Florence or Pisa by train (about 2 hours with high-speed Frecciarossa) or we can arrange a transfer service for you.
If you are on a cruise, we can pick you up in Livorno, Piombino and La Spezia.
Contact info
If you are interested in one of our tours and live a unique Tuscan experience, please contact us by phone or e-mail. We will do our best to guarantee a response within a few hours and start planning your unique journey.
My Tuscan Style, LLC
Italy: via della Villana 178,
Rosignano Solvay (LI), 57016
USA: 710 Adeline Pl.,
Davis, CA, 95616
Telephone:
+1 530 574 0571 (Roberto)
+1 530 574 0293 (Laura)
E-mail:
info@mytuscanstyle.com